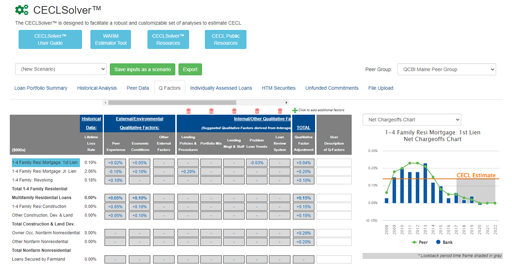 CECLSolver™
Request a demo of CECLSolver.
CECLSolver Makes CECL Simple
Do-it-yourself estimate – Consultants not needed
Instant peer and historical data – Powers your Q-factors by easily and instantly showing your historical data and customized peer data – critical to your CECL analysis
Huge help for community banks – Enables you to perform a very informed and defensible CECL analysis that's completely sufficient for most community banks
No analysis paralysis – Replaces needlessly complex calculation methods and software services
Data handling done for you – Let us aggregate the data and calculate your Weighted Average Remaining Maturity for your portfolio (if desired)
Graphical results – New loan graph feature visualizes your expected reserve versus your past experience
Unbeatable value! You'll have access to ALL QwickAnalytics tools, plus CECLSolver!
From recent joint Webinar:
"... for smaller, less complex community banks, complex modeling techniques are not required, and

simple practical methods

should work."
CECL Webinar for Bankers: Practical Examples of How Smaller, Less Complex Community Banks Can Implement CECL (by FDIC, FRB with the CSBS, the FASB, and SEC) February 27, 2018
CECLSolver makes it simple and easy to meet the requirements.
"QwickAnalytics is by far one of the best solutions we use with regards to our CECL modeling, Stress Testing, and UBPR comparisons."
Request Demo
CECLSolver is part of our QwickAnalytics solution. One subscription gives your bank access to CECLSolver, Credit Stress Test, bank research, peer analysis and more. Complete the form below or call 800.285.8626.