QwickAnalytics
Value-added, time-saving tools designed specifically for community bankers.
Compelling research, regulatory and analytical tools,
built upon the most insightful and flexible online research database in the industry.
One subscription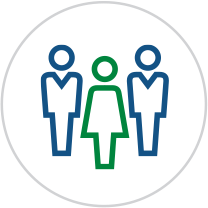 Unlimited users
I give QwickAnalytics high marks. It uses our language and speaks to the metrics we compare ourselves to. And it's the easiest way to find out what other banks are doing in one or two clicks.
Jon Drake, CFO,
Peoples Bank
Both the Federal Reserve and our state regulators have been very complimentary about our credit stress test. They remarked that the test made sense, is based on good logic and is very easy to read and track.
Perry Haralson, CFO,
Cornhusker Bank

Easy. Online. Affordable.
Time saving tools for bankers.
Interactive Bank Analysis
Your Financial Story available online, anytime
Competitive Research on any other bank
Highly effective graphic displays
Financial performance data presented in a value-added format that is easy for everyone to use
Never before has this type of data and analysis been so affordable for community banks
NEW Excel Add-In Tool offers the ultimate in custom research with the ability to download any of more than 300 million bank data items into your own spreadsheet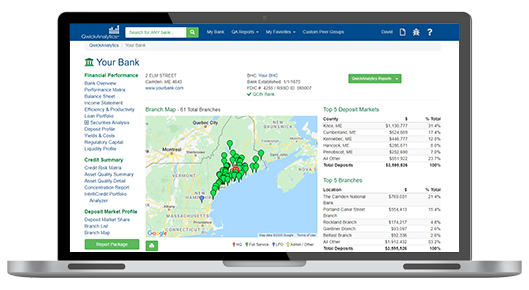 "I've found the QwickAnalytics Excel Add-in Tool to be really helpful. From a bank and financial analyst perspective, it has to be one of the best tools for quickly calculating specific-entity information for management – like excluding PPP loans from net interest margin and other ratios."
Jonathan Primeaux, CPA, MBA
Senior Accountant
Gulf Coast Bank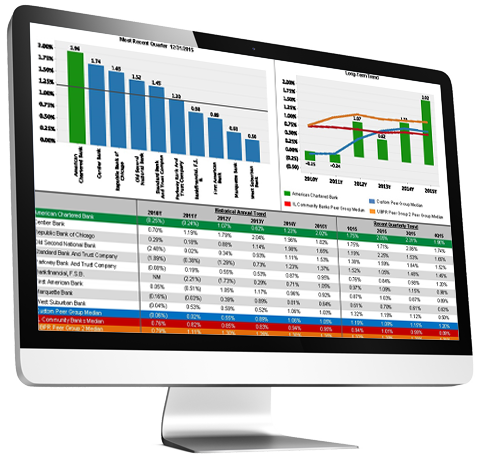 Bank & Peer Performance
Easily create peer benchmarking and competitive analysis
Bank Performance Report Card – benefit from a comprehensive analysis of your bank's actual and relative performance over the last 4+ years – presented in easy-to-understand graphs and tables
PeerWatch Trends – use this powerful peer benchmarking tool to visually assess your competitive position – against your custom list of peers– in 47 different metrics as it trends over time
PeerWatch – see a side-by-side "snapshot" comparison of the last quarter results of your bank against each bank in your custom peer group
Credit Risk Matrix – compares your profile on an absolute and relative basis, promoting more loan level analysis
Performance Matrix – view visual, color-coded comparison of key performance indicators and where you rank against standard and customized peer groups
See QwickAnalytics in action.
Regulatory Compliance
Exceed examiner expectations – effortlessly
CECLSolver – Simple and easy! Powers your Q-factors by easily and instantly showing your historical data and customized peer data – critical to your CECL analysis

Credit Stress Test – provide examiners with professional, portfolio-based and reverse stress test reports – at the touch of a button
Capital Planning Tool – easily model any capital needs identified by stress test results
Reg F Snapshot – get an instant 2-page analysis of recent and long-term performance for your bank (or a competitor) and satisfy Reg F
Liquidity Risk Report – view analysis of liquidity levels and trends compared to internal targets and regulatory preferences with early warning indicators
See QwickAnalytics in action.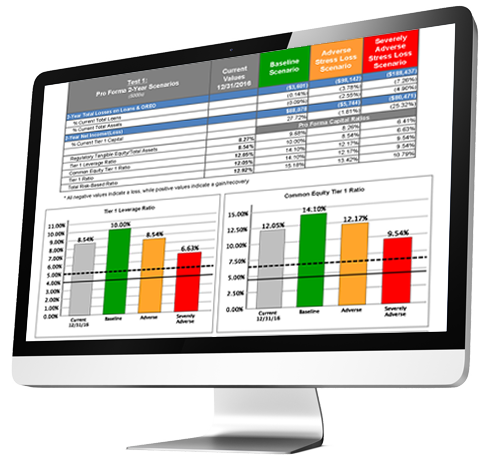 "In a recent conversation with examiners about our bank's preparation for the transition to CECL, I showed them the QwickAnalytics CECLSolver tool we used to work on our CECL calculation. We were able to make notes about our assumptions right in CECLSolver. Those personalized notes really laid out our methodology, and underlined the fact that we put quite a bit of thought into preparing our estimate. The examiners had a lot of questions about how much time it took us to update CECLSolver, and we also showed them the QwickAnalytics Capital Planning Tool, Liquidity Stress Test and Credit Stress Test. It appeared they thought the product was a good value. We plan to explore how we can use QwickAnalytics even more to simplify what we are currently doing."
Patrick Kenner, President & CEO, Thayer County Bank
Ready to get started with QwickAnalytics?
Just fill out the form and click "done". One of our experts will be right in touch to get you started and answer any questions.